The NISEI Soldier

Congressional Gold Medal

Honoring the Japanese American World War II soldiers who fought in the service of the United States
Patriotism. Citizenship. Courage. Compassion. Perseverance. Humility.
This exhibition presents the extraordinary life stories of 12 Nisei soldiers who served in the US Armed Forces in World War II. While some had families in America's concentration camps, all served with a highly uncommon and commendable sense of patriotism and honor. This is their American story.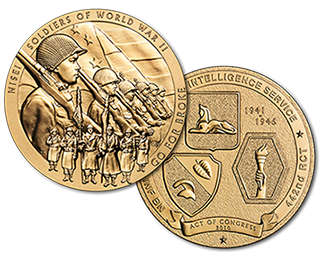 The Congressional Gold Medal is the highest civilian award bestowed by the United States Congress. It is awarded to persons or groups whose achievements have impacted American history and culture and is recognized as a major achievement in their fields. Learn more about its history and how the Nisei Soldiers attained this recognition.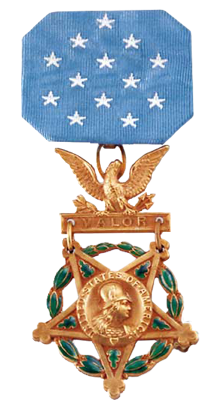 The Medal of Honor is the highest military honor awarded to an individual for personal acts of valor above and beyond the call of duty. It is presented by the President of the United States in the name of Congress. Originally, only one Japanese American received the Medal of Honor for service in World War II. Fifty years later, twenty more Nisei soldiers were upgraded to the Medal of Honor.
Nearly 18,000 served in the segregated unit of the 100th Infantry Battalion and 442nd Regimental Combat Team, Military Intelligence Service, and Occupation of Japan. Although loyalty of all Japanese Americans was questioned, all of the soldiers who made up these units sacrificed and proved their loyalty in service to their country, the United States.
Executive Order 9066 forced the removal of more than 110,000 Japanese Americans from the West Coast during World War II. Incarcerated behind barbed wire, families and young men were challenged to make difficult choices as a result of a loyalty questionnaire imposed by the US government. Explore the different choices made by these young men that changed the course of their lives.
The journey of Japanese Americans in America began in the late 1890s when the first generation of Japanese arrived in Hawaii and the mainland United States. Learn about their struggles and achievements, from being one of the most hated races to their successes today.
Resources
For in depth information about the Japanese American World War II experience, explore the rich resources developed by organizations nationwide.